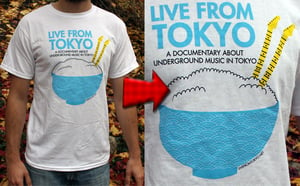 $

15.00 - On Sale
Designed by the notorious SEIBEI of http://seibei.com this t-shirt is the official t-shirt of Live From TOKYO - a documentary about underground music in Tokyo.
"Everyone is hungry for something new." - Cal Lyall
All procedes go to helping us enter festivals and plan screenings with live bands from Tokyo across the country and around the globe!
Sizes Small and Medium are currently sold out.